Successful Commisioning of PV Project DIMITRA II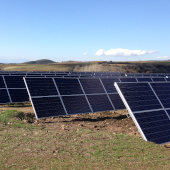 In February 2018 in the region of Kilkis our second pv system has been connected to the local public grid. For this installation 384 panels have been used. The nominal capacity of the system amounts 99.8 kWp. The project has been entirely financed with equity from e-swissolar AG.  e-greeksolar Ltd is receiving a fix feed-in tariff secured during the first pilot auction for small pv systems. We expect that our pv system will produce and inject 1650 kWh 100% renewable energy in to the public local grid. Follow the link and watch our video after the realization of construction.

Net Metering residential PV project in Thessaloniki in operation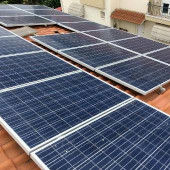 In Pefka, near to the city of Thessaloniki, e-greeksolar Ltd developed and constructed its first net-metering photovoltaic project. The residential pv-system has an installed capacity of 5kWp.

Net metering (self-consumption) is the direct consumption of locally generated energy from decentral energy resources (DER), usually photovoltaic, while the possible additional demand is covered from the Grid. Thus, the Grid is essentially used to store the energy produced. At the end of the measurement period the energy is consumed locally.